Welcome to the Neighborhood Initiative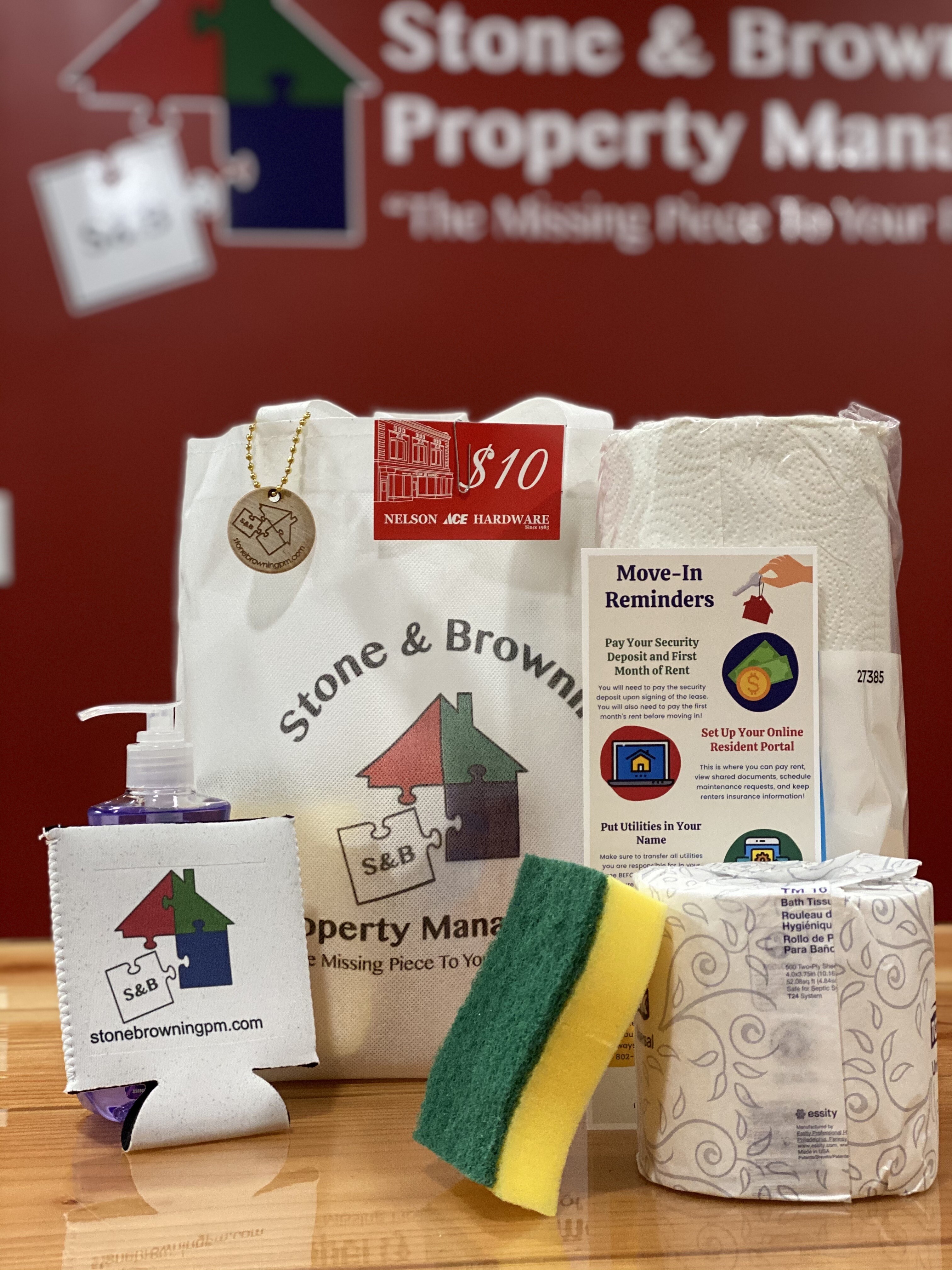 Have you ever moved in to a new place and forgotten to grab some basic move in items? Having to run back and forth to the store, in a potentially new place can be intimidating and a hassle. That is why we started our Welcome to the Neighborhood initiative. When you move in to one of our units you get a move-in bucket complete with basic items to help your move-in go more smoothy! In the bag you will find the following:
Roll of toilet paper
Paper towel roll
Bookmark
Hand or dish soap
Small pot with seeds to grow
Magnet with our contact information
Coloring book and crayons (if there are kids moving in)
All of these items come in a reusable cloth bag you can bring to the local farmers market, the grocery store or use it as a storage bag in your new unit!
We also partner with local business to fill our welcome bags too. You will find a gift card to Nelsons Hardware where you can find so many items that could be helpful for a new unit, need a hammer and screw driver to assemble the shelf you purchased? Nelsons has you covered! Or you may find a gift card to AR Market where you can choose from their selection of fresh produce, meats, wine and beer. Also in your bag you will find a wooden key chain made by Maple Landmark over in Middlebury! They make lots of wood products from toys to keychains to puzzles! Are you a local business that wants to help our new residents feel more welcome? Email info@stonebrowningpm.com to chat with one of our team members about adding your own twist to the bag!
Not only do we have you covered with our move in buckets, we also have your pets covered too! We want to make our furry friends feel welcome as well and that is why we started to include treats in our move in bags for cats and dogs! Snap a photo of your kitty or pup enjoying our treat bag to be entered into our raffle at the end of the year to win them some pet-appropriate prizes!
It is our goal to make you feel welcome when moving in to one of our units and giving you a move in bucket when we greet you on your move-in day is a small act that will hopefully bring a smile to your face. After all we strive to be the missing piece to your peace of mind!